Business Online and Mobile Banking
Manage your business finances from anywhere, anytime with our Digital Banking services that give you the power to monitor account activity and take care of basic transactions right from your mobile device or any web browser. That way, you can keep your business moving in the right direction while backed by the financial partner you deserve.
Mobile Banking Features:
Check account balances
View and search transaction history
Make transfers
Pay bills and manage payees
Mobile Check Deposit
Manage Positive Pay exceptions
Download the app from the App Store® or Google Play.
Online Banking Features:
View account balances and activity
View images of paid checks, deposit tickets and deposited items
Receive eStatements
Make Internal account transfers
Pay Bills
Set up email and text alerts
Initiate a stop payment
Export account activity for your financial management program
Send and receive secure messages to/from the bank
Loan payments and advances
Additional Features:
External Transfers
Transfer money from your accounts at Peoples Bank to designated receiving account(s) at other financial institutions
Extended online history
Extend your deposit account, check image and deposit ticket image history
If you have questions, call (219) 853-7630, Option 2, and speak directly to one of our Digital Banking experts
Fraud Prevention Services
Check Positive Pay Services
ACH Positive Pay and Debit Block
Money Movement Services
ACH Services
Online Wire Transfer Service
Deposit and Reconciliation Services
Remote Deposit
Full and Partial Account Reconciliation
Deposit Reconciliation
How to Enroll
Click the button below to complete a Business Online Banking enrollment request.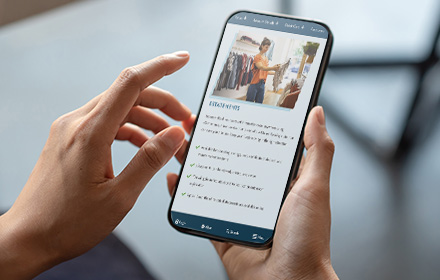 e

Statements
eStatements make it easier for you to keep an eye on your business finances so you know your money is moving in the right direction while staying safe and secure from fraud.
eStatements are available for checking, savings, loan, certificate of deposit, and money market accounts.
As soon as you enroll, you will receive immediate access to past statements
Bill Payment1
Help your business run more efficiently with online bill pay, the faster way to manage business payments with the benefit of enhanced security.
Features:
Pay It Your Way
Keep your business moving in the right direction with the help of automatic payments and scheduled reminders to avoid late fees! Pay your bills in full, make partial payments, or pay as you go with Pay It Your Way.
eBills
Receive electronic versions of your business' bills directly through Business Online Banking, if the payee offers this feature. Once a bill is available, you can view and pay it immediately.
Expedited Payment1
Keep your finances running smoothly and efficiently with Expedited Payment, the tool that gives you the power to make an immediate payment, and even overnight payments if the payee offers this feature.
1A fee is incurred with the use of this service.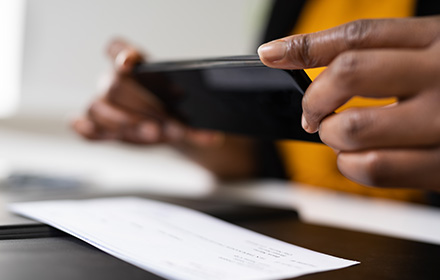 Mobile Check Deposit1
Mobile check deposit2 helps you manage your business finances quickly, easily, and securely. Simply snap a picture of your check and watch the funds go directly into your account.
Once you've logged in with your Business Mobile Banking app:
Click the blue plus sign (+) at the bottom of the screen.
Select "Deposit" from the menu.
Read disclosures and click "Continue."
Click the front and back icons to take a picture of the front and back of your endorsed check.
Enter the amount of the check, select the account, enter an email address to receive alerts regarding your deposit2, and click submit.
You will receive an alert when the check has been received and when it's been approved or denied.
1Must be enrolled in online and mobile banking.
2 All deposits made after 6:00 p.m. CT or on non-business days will be processed on the following business day. Subject to account eligibility requirements and further review. Checks submitted for deposit are subject to verification and are not available for immediate withdrawal. Deposit limits apply. Other restrictions may apply and are subject to change without notice.
Accounts
Choose the right account for your saving, spending, planning or business needs, and keep your money moving in the right direction.
Learn More